At Focused Expeditions we find the best Photographers who are also great tour leaders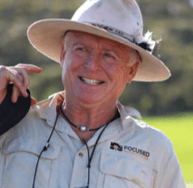 While quietly spoken about his achievements, Leon's photography career speaks for itself. He started on the Fleurieu Peninsula as a cadet in the Victor Harbor Times, quickly moving to the Adelaide News then the Stock Journal, where he fostered his love for the bush and won multiple awards for capturing SA rural life.
Leon was the first photographer to shoot for the RM Williams magazine when it first started publication and then went all the way to The Advertiser as Senior Photographer and Pictorial Editor, working on the Olympics and Commonwealth Games.
For over a decade, he ran Leon Mead Photography in remote North West Kimberley. At the time, Leon was living in Broome, shooting media, magazine work, tourism and indigenous photography. He was highly sort after for weddings and portraits photographing The Kimberley's landscape and traveling the remote coastline in his boat.
Leon has published a hard covered book on the beef industry called, "Spirit of the Outback" and worked with DK books publishing a children's book and contributing to others.
Leon has worked all over the country. He has immersed himself in rural South Australia and spent most of his youth in the Coorong and Southern Fleurieu Peninsula. He is now based in scenic Goolwa shooting his amazing environment and sharing his camera skills with a laid-back approach to helping people feel comfortable with their cameras.
So, come with Leon and learn about photography and how it requires a person to engage with his/her subject with empathy, while connecting with the environment and reflecting it through a camera lens.